What happens when a knight, a samurai, and a viking walk into a bar?
People get stabbed.
Replace the bar with a battlefield, and you've got For Honor.
A kick ass game needs a kick ass
STORY TRAILER
for launch.
This is what we put together.

​​After the positive reception of the story trailer,
we were asked to rewrite the voiceover for the U.S. version of the official LAUNCH TRAILER.

Bolivia is a paradise on earth,
full of picturesque landscapes, exotic wildlife, and cocaine;
lots and lots of pure, uncut cocaine.
To get people hyped to take on (and take out) the Santa Blanca Cartel,
we created the OFFICIAL BROADCAST SPOT for launch.
For Ghost Recon Wildlands' first two post-launch DLC releases,
we were asked to NAME the EXPANSIONS (we landed on Narco Road & Fallen Ghosts)

Freedom. Faith. Firearms.
Welcome to Hope County, Montana,
​home of the most batshit crazy characters in FarCry history.
For the official announcement and reveal of FARCRY5 at E3 2017,
we created a number of different assets to get folks at the event excited to get their hands on the floor demo.
From SNAPCHAT ADS and GEOFILTERS to a THEMED FOOD TRUCK,
​we gave the people of E3 a little taste of some ol' fashioned, homegrown chaos.

(​The above ads were viewed over 7 million times through the E3 Live Story and various targeted User Stories on SnapChat.
My average Snapchat views are usually closer to a baker's dozen, at best.)

Watch Dogs 2 gives you the power to hack everything imaginable in San Francisco and the greater Bay Area.
I'm still trying to figure out how to pay for potato chips in the grocery store with my phone, so...
We wanted to get bring people into the world of Dedsec and WD2,
so we made
/HELLO_WORLD
, a
WEBSITE
highlighting all the awesome shenanigans you can get into in the game.
(Click
HERE
or on the image below to link to the official webpage.)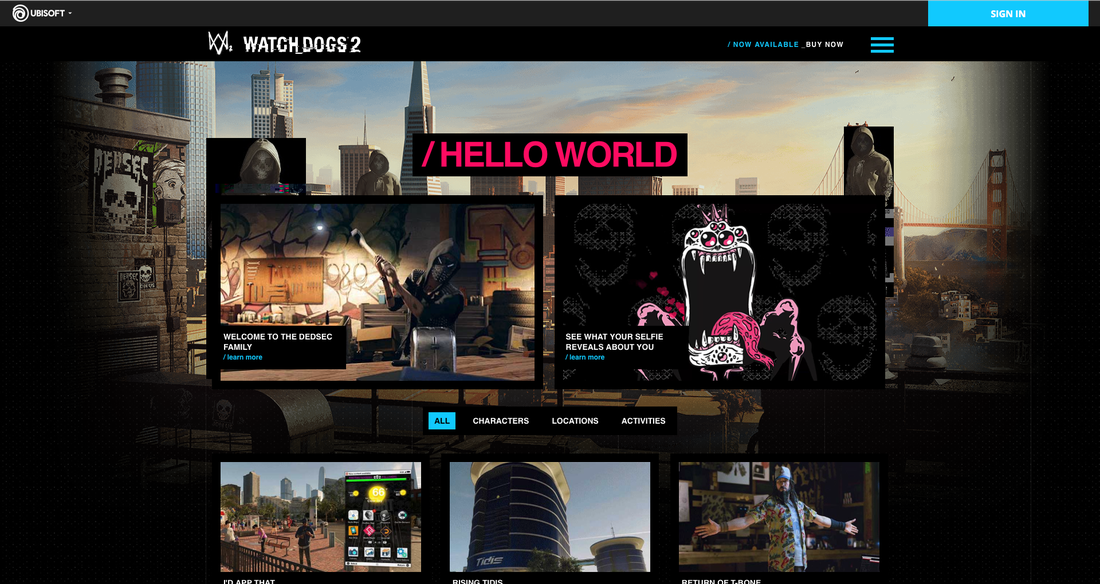 I've had the chance to work on almost every title in the current Ubisoft library.
Below are just a few projects I either helped name, develop, or produce
for various Ubisoft games, internal assignments, and external partnerships/sponsorships.

(Hover over and/or click the image to learn more about each project.)